In God of War: Ragnarok, players have access to several different skill trees and dozens of skills to upgrade Kratos and Atreus.
These skill trees work identically to how they did in God of War 2018, so returning players should feel right at home. For new players, however, you unlock different skill trees throughout the game as you gain access to new weapons. Once these skill trees are unlocked, you can use XP to purchase skills inside of the trees to give Kratos and Atreus improved stats and new abilities to use in combat. The skills located further down the skill trees are unlocked by purchasing the skills before them in the tree.
If you're looking for the absolute best skills to purchase first in God of War: Ragnarok, then we have you covered. We'll be going over the five best early-game skills you should unlock in the first few hours of Ragnarok.
Best early skills in God of War: Ragnarok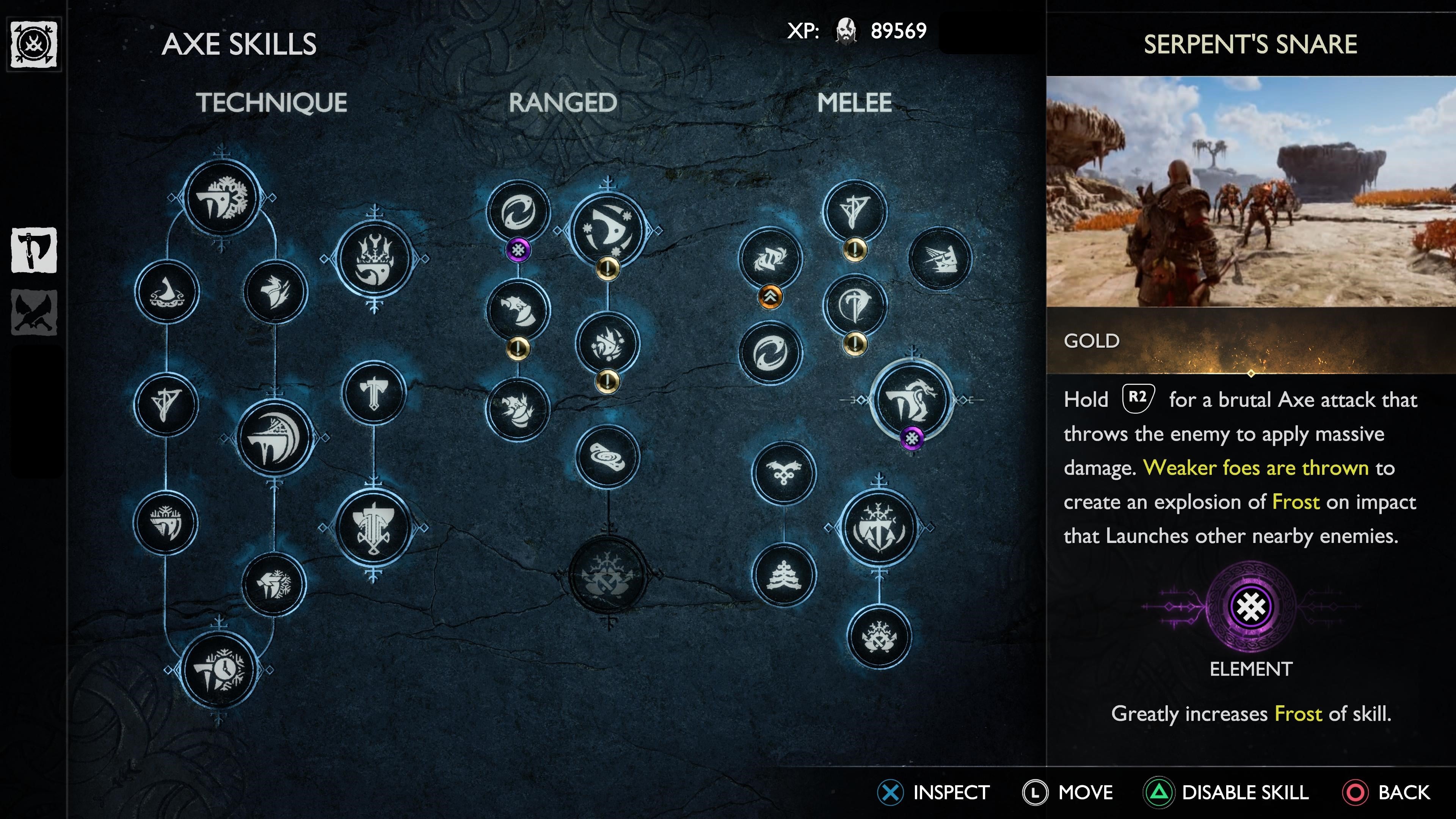 We'll begin with what we believe to be the absolute best early-game skill and then go down the list.
Glacial Rake
This is arguably one of the best skills in the entirety of Ragnarok, and it's available to players relatively early on. Glacial Rake costs 750 XP, so players should have enough if they save their XP in the early game. The skill itself sees Kratos drag his Leviathan Axe along the ground to then unleash an ice shockwave onto an enemy or group of enemies. This is a perfect AoE attack but can also be used to decimate a single enemy.
Serpent's Snare
Unlike Glacial Rake, Serpent's Snare won't be available right at the start of the game. Instead, players need to use a Frozen Flame to upgrade their Leviathan Axe at Brok and Sindri's Shop. Once this is done, a new set of skills will open up for Kratos. One of these skills is Serpent's Snare, which is a heavy axe attack that turns enemies into a ticking time bomb. Kratos thrusts his axe into an enemy, sending them flying and forcing them to explode into an icy bomb. It's a tremendous ranged attack that gives you some time to deal with other enemies or heal.
Vengeful Sickle 1
We have another ranged attack for Kratos' axe in Vengeful Sickle 1. This is the first version of the skill, and it lets players charge and throw their axe. Once they throw it, the axe constantly slices up an enemy with multiple hits. This inflicts a massive amount of ice damage and sends enemies to the ground.
Watchful Protector
We have our first skill for Atreus in Watchful Protector. This skill is one of the best early-game skills for Atreus, as his skill tree doesn't truly open until later in the game. Watchful Protector allows Atreus to distract enemies if Kratos is being overwhelmed, which is a great passive skill that can be the difference between living and dying in a fight.
Vaporize Frost
Finally, we have a skill for the Blades of Chaos in God of War: Ragnarok. Vaporize Frost is a perfect skill to get as soon as players unlock the Blades of Chaos. It allows players to use both of their weapons in conjunction with each other. Vaporize Frost allows the Blades to deal extra damage to enemies that are frosted. So players can open a fight with their Leviathan Axe and then go in with the Blades of Chaos once the enemies have received frost damage.