Earlier today, a new Pokémon Presents event took place, and the developers at Game Freak and Nintendo revealed a plethora of new details regarding the future of Pokémon Scarlet and Violet. Among the news was the revelation that two new expansions would be arriving in Scarlet and Violet this year, both of them being a part of "The Hidden Treasure of Area Zero." While players will have to wait for that expansion, there is some content that they can grab for themselves right. In case you missed the Pokémon Presents today, Hisuian Zorua and Zoroark have arrived in Scarlet and Violet as of today.
Zorua and Zoroark were already in Pokémon Scarlet and Violet when the base game launched in November of 2022. However, now players can also grab their alternate Hisui form, which changes the Pokémon's typing from Dark to the powerful Normal and Ghost types. If you want to learn how you can add both Hisuian Zorua and Zoroark to your team in Scarlet and Violet, keep reading the guide below.
Catching Hisuian Zoroark in Pokémon Scarlet and Violet
In a strange twist, players can't actually obtain Hisuian Zoroark and Zorua at the same time. Instead, players will need to complete two different tasks to add both Pokémon to their team.
Hisuian Zoroak can be obtained by pre-ordering The Hidden Treasure of Area Zero expansion in Scarlet and Violet before Oct. 31, 2023. This purchase will come with a serial code on your receipt in the Nintendo eShop. You can then use this code in the Mystery Gift menu of Scarlet Violet. Choose the option in the menu that says "Get with Code/Password" and then enter the code on your receipt. Keep following the prompts on-screen to obtain Hisuian Zoroark.
Catching Hisuian Zorua in Pokémon Scarlet and Violet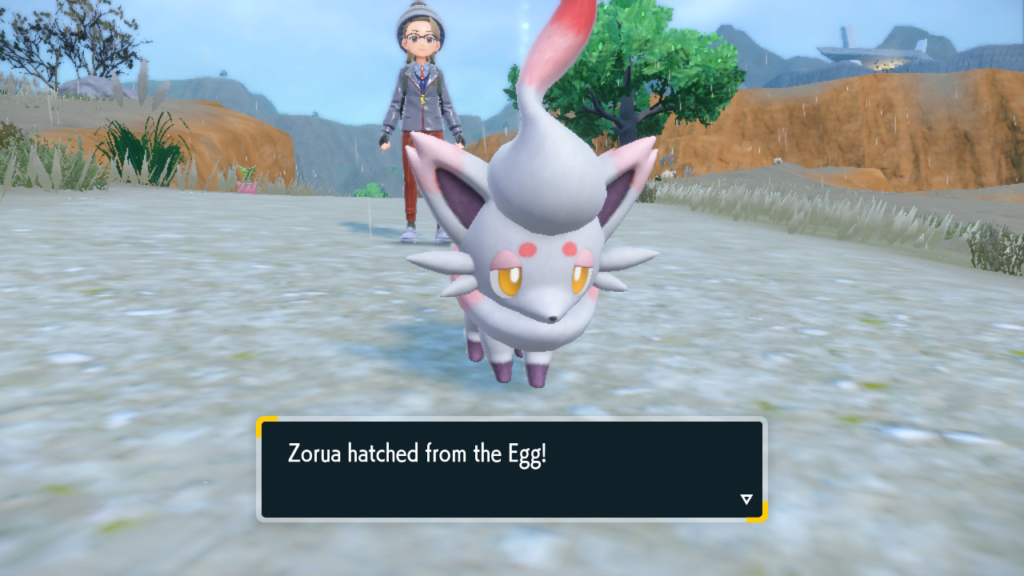 Alternatively, you can only obtain Hisuian Zorua by breeding your Hisuian Zoroark with a Ditto in Scarlet and Violet. However, since you're dealing with a regional form of a Pokémon, you need to follow a specific series of steps.
Instead of breeding your Hisuan Zoroark with a normal Ditto, you need to ensure your Zoroark is holding an Everstone before breeding it. Once you've done that, follow the breeding process as normal, which involves setting up a picnic with those two Pokémon in your party. You can then check your picnic basket for an egg every now and again. When an egg does appear, it will contain Hisuian Zorua. You can hatch the egg by running for a certain number of steps in the overworld.