After Season 1 released in December of 2021, the roadmap for Season 2 of Call of Duty: Vanguard and Warzone Pacific has been revealed, including new Warzone locations, weapons, Operators, Ranked Play for Vanguard and multiplayer maps.
The roadmap for Season 2 of Vanguard and Warzone showcases when all of this content will arrive. The update for Season 2 goes live in Vanguard at 12 p.m. ET on Feb. 10. For Warzone Pacific, the update goes live at 12 a.m. ET on Feb. 14. And, finally, all content releases for both titles at 12 p.m. ET on Feb. 14.
Vanguard and Warzone Season 2 roadmap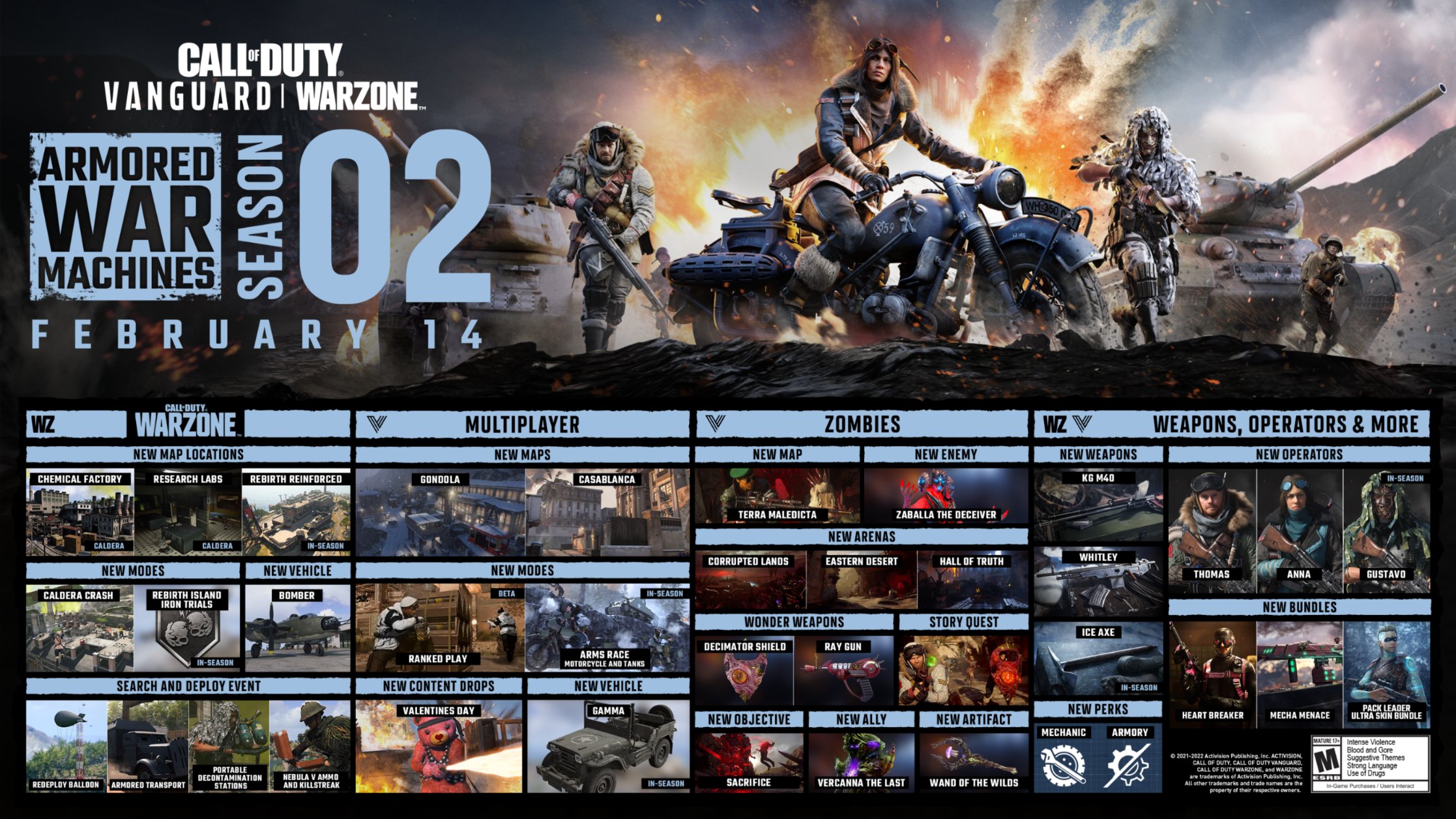 There's a ton of information to digest with Season 2, so you can see everything that's coming to each game below. To see screenshots of all the new content, along with more in-depth explanations, see Call of Duty's new blog post.
Warzone Pacific
New POIs

Chemical Factory
Research Labs

Rebirth Reinforced (In-Season) – Massive changes are coming to Rebirth Island
New Modes

Caldera Crash
Rebirth Island Iron Trials (In-Season)

New Vehicle
Search and Deploy Event

Redeploy Ballon
Armored Transport
Portable Decontamination Stations
Nebula V Ammo and Killstreak (Field Upgrade ammo type)
Vanguard Multiplayer
New Maps
New Modes

Ranked Play (Beta)
Arms Race (In-Season) (Motorcycles and Tanks)

New Content Drops
New Vehicle
New Killstreak
New Lethal Grenade
Weapons, Operators and more (Warzone Pacific and Vanguard)
New Weapons

KG M40 (AR)
Whitley (LMG)
Ice Axe (Melee) (In-Season)
Armaguerra 43 (SMG) (In-Season)

New Perks

Mechanic – Counter to Engineer
Armory – Use Field Upgrades longer

New Operators
New Bundles

Heart Breaker
Mecha Menace
Pack Leader Ultra Skin Bundle
To go along with all of this content, there will also be the Season 2 Battle Pass release. This is where you can unlock the new weapons, Operators and perks coming to Vanguard and Warzone Pacific.
The content is jam-packed in Season 2 but there are some definite highlights. This starts with Ranked Play finally releasing for Vanguard. More information should be coming this week, but the mode will start out in beta and feature visible skill ratings, rewards and competitive rulesets. Treyarch and the CDL have worked together to feature more innovations for this iteration of Ranked Play as well.
There's no word on if any of the new content in multiplayer will be available in Ranked Play, however. Perhaps if the new maps, Gondola and Casablanca, play well enough, fans could see them introduce either map to competitive play. Also coming to Vanguard is a new mode, Arms Race, where players can battle each other with motorcycles and tanks. Lastly, there's a new killstreak, the Ball-Turret Gunner, coming with Season 2. This is the WWII version of the Chopper Gunner and should be a blast to use.
For Warzone Pacific players, there are major changes coming to Caldera and Rebirth Island. Caldera has two new POIs to start off the season, while Rebirth Island will undergo some major changes during Season 2. Rebirth will also get its own Iron Trials playlist — something it's never had.
Warzone Pacific is also receiving a new event called Search and Deploy. This uses a plethora of new mechanics, such as Redeploy Balloons, to shake up the way Warzone plays.
Season 2 looks to have more content than ever before. But the question is, can the developers sustain the season with enough updates? Fans will have to wait and see. The season officially starts at 12 p.m. ET on Feb. 14.