We're heading into March and for Pokémon GO players around the world, the start of the month usually signals the start of new research tasks, migrated nests and more. Pokémon GO has continuously devised events to keep players engaged, from limited research tasks, to new Rocket bosses, more legendaries, raid hours, and spotlight hours. As we head into March, read up on all the changes being made and get excited for these new mons coming in the Season of Legends.
Team GO Rocket Special Research
Yes you heard that right. Special research for Team GO Rocket is coming to Pokémon GO. If you missed some of the shadow legendary birds last time, this is now your chance. Starting February 28, 2021, midnight local time, you'll receive the Team GO Rocket Special Research. Complete the special research to earn the Super Rocket Radar. This radar will give you access to find and battle Giovanni. Each month, the boss Giovanni will have different shadow birds:
March: Shadow Articuno
April: Shadow Zapdos
May: Shadow Moltres
Niantic have said there will be more ways to earn Super Rocket Radars at the start of the season. Stay tuned for more info and follow the official Twitter to keep up to date.
On the topic of research, frustrated players will be happy to learn Snorlax is leaving the weekly research breakthrough encounters. Players on social media were asking for "better" Pokémon from weekly research. Snorlax will be leaving weekly research at the end of the month and Gible will be taking over. From March 1st, 1pm local time, Gible will be available, along with its shiny form.
Five-star and mega raids during Season of Legends
Tornadus, Landorus, and Thundurus already made an appearance in Pokémon GO last year. This March, you can encounter their alternate forms. Each of these Shinnoh legendaries will be available in their Incarnate and Therian forms.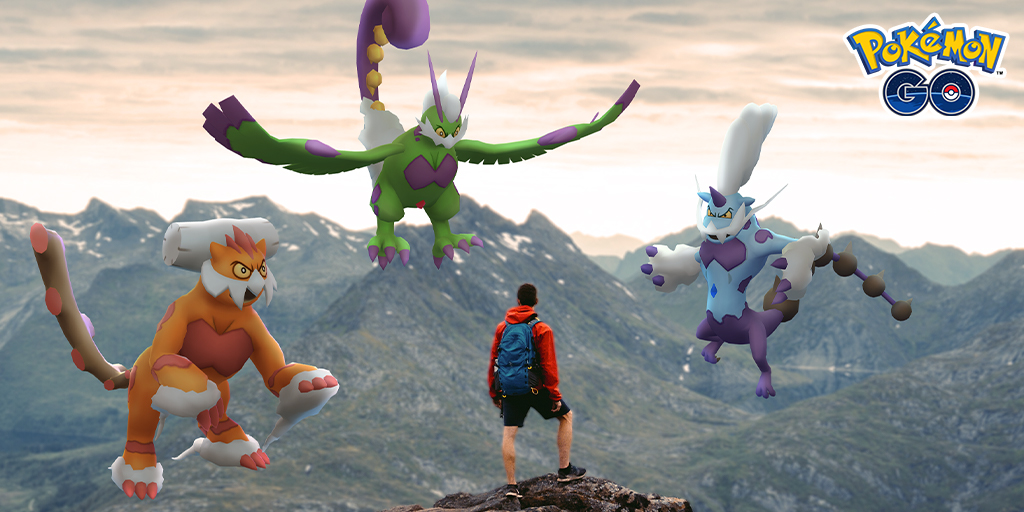 Each of these legendaries will be available in five-star raids. Since the Incarnate versions have already made an appearance in PoGo, they'll be available as shinies. The Therian formes don't have a shiny alternate yet. You can catch these Pokémon at the following times in raids:
Monday, March 1, 2021, 8am local time – Incarnate Forme Landorus
Saturday, March 6, 2021, 8am local time – Incarnate Forme Tornadus
Thursday, March 11, 2021, 8am local time – Incarnate Forme Thundurus
Tuesday, March 16, 2021, 10am local time – Therian Forme Thundurus
Therian Forme Landorus – it wasn't clear when this is coming. But we can assume it's during the week between Thundurus and Tornadus
Tuesday, March 30, 2021, 10am local time – Therian Forme Tornadus
Mega Raids and Raid hours
If you haven't caught some powered up mega Pokémon yet, now's your chance. There will be plenty of chances to catch Blastoise, Pidgeot, Ampharos, Houndoom, and Abamasnow. These are all currently available in the game. New "surprise" Mega-Evolved mons will be appearing in Mega raids starting March 16, 10am local time.
And don't forget every Wednesday night from 6pm-7pm local time is raid hour. During this period more pokémon will be in five-star raids and there will also be a bonus raid hour. The bonus raid hour will be Monday March 15, from 6-7pm local time. At the start of the Season of Legends you'll be able to grab more XP for five-star raids.
Pokémon GO spotlight hours
Every week Pokémon GO has a spotlight hour. During this time, more of a particular Pokémon spawns. These events take place every Tuesday at 6pm-7pm local time. Here's the list of Pokémon appearing in the spotlight this March:
Krabby coming Tuesday, March 2, 2021: earn twice the Candy for transferring Pokémon.
Drowzee coming Tuesday, March 9, 2021: earn twice the XP for evolving Pokémon.
Voltorb coming Tuesday, March 16, 2021: earn twice the Stardust for catching Pokémon.
Surskit coming Tuesday, March 23, 2021: earn twice the XP for catching Pokémon.
Slugma coming Tuesday, March 30, 2021: + earn twice the Candy for catching Pokémon.
With all the events happening at night, set your alarm for 6pm every Tuesday and Wednesday. You'll be guaranteed to catch every spotlight and raid hour!
March Bonus Hours
Niantic are training bonus hours throughout March. Every Thursday between 6pm and 7pm local time the following will happen. Yes just set your alarm for Thursday as well:
GO Rocket Hour coming Thursday, March 4, 2021:  Team GO Rocket Balloons will be appearing more frequently.
Mega Bonus Hour: Candy coming Thursday, March 11, 2021:  Earn more Candy when you catch Pokémon that share a type with your active Mega-Evolved Pokémon.
Mega Raid Hour coming Thursday, March 18, 2021: Mega Raids will be happening more frequently.
Nest migration, hemisphere mons, and upcoming events
Pokémon GO seems to have jam packed everything in at once. During the Season of Legends there's a host of other things happening:
Shiny Nosepass is coming to PoGo
Sunday March 14 is incense day; Physic and Steel mons attracted to Incense
More electric mons coming from Tuesday 16 March
March 24-March 29 is "Weather Week". New avatar items and weather-themed mons coming
Special Raid Weekend is happening Saturday March 27 and Sunday March 28. More details to come
Free weekly bundles in the Item Shop continue
Trading mons now gives you more Candy XL and catching Legendary, Mythical or evolved mons gives you guaranteed Candy XL
Nests migrate at the start of the season
Different mons appearing in each hemisphere as well as different mons in eggs.
With so many changes trainers could easily get lost. We hope this list makes it easy to find what you're looking for this season. If you're looking for specific hemisphere mons then you'll need to get lucky. Unfortunately we can't travel much this year so hopefully the mon you want is in your hemisphere.
Hemisphere Pokémon
If you're in the Northern Hemisphere, you'll be able to catch Tangela, Combee, Croagunk, Ducklett, Turtwig, Chimchar, Piplup, Scyther, Dratini, Cottonee, and Spring Form Deerling. In the Southern Hemisphere it's Mankey, Yanma, Buizel, Woobat, Snivy, Tepig, Oshawott, Pineco, Bagon, Ferroseed, and Autumn Form Deerling.
Some of these changes might be a little confusing, especially the starters migrating to regions. But at least you can encounter Deerling in its natural form based on regional seasons!
More from Pokémon GO
If these legendary mons don't excite you, then Pokémon GO has something for you. Don't forget Season 7 of the GO Battle League is coming with new changes. And hopefully you were able to finish the Team Rocket research. Remember, Meowth balloons will be disappearing at the end of February. Plus there's only two days left to finish your Kanto Celebration Event research. Get set for the wave of changes in March by finishing your backlog of tasks and clearing out your mon storage. Finally, don't forget about Fletchling community day happening this March.