It's getting closer to Halloween and Call of Duty: Warzone and Black Ops Cold War are ready to celebrate with The Haunting event. Likely the last seasonal event for Cold War, The Haunting will introduce a wide-ranging variety of cosmetics and content. This is for both Cold War and Warzone, but multiplayer is receiving the chunk of the content along with Zombies.
The Haunting event releases tomorrow, Oct. 19, and Activision released an official roadmap to detail every piece of content coming with it. Of course, fans will need to unlock all of this seasonal content themselves, which could take some time. However, if recent events are any indication, the bulk of the content will be fairly easy to obtain.
Below, fans can see the full roadmap for The Haunting event in Warzone and Cold War.
The roadmap for The Haunting in Warzone and Cold War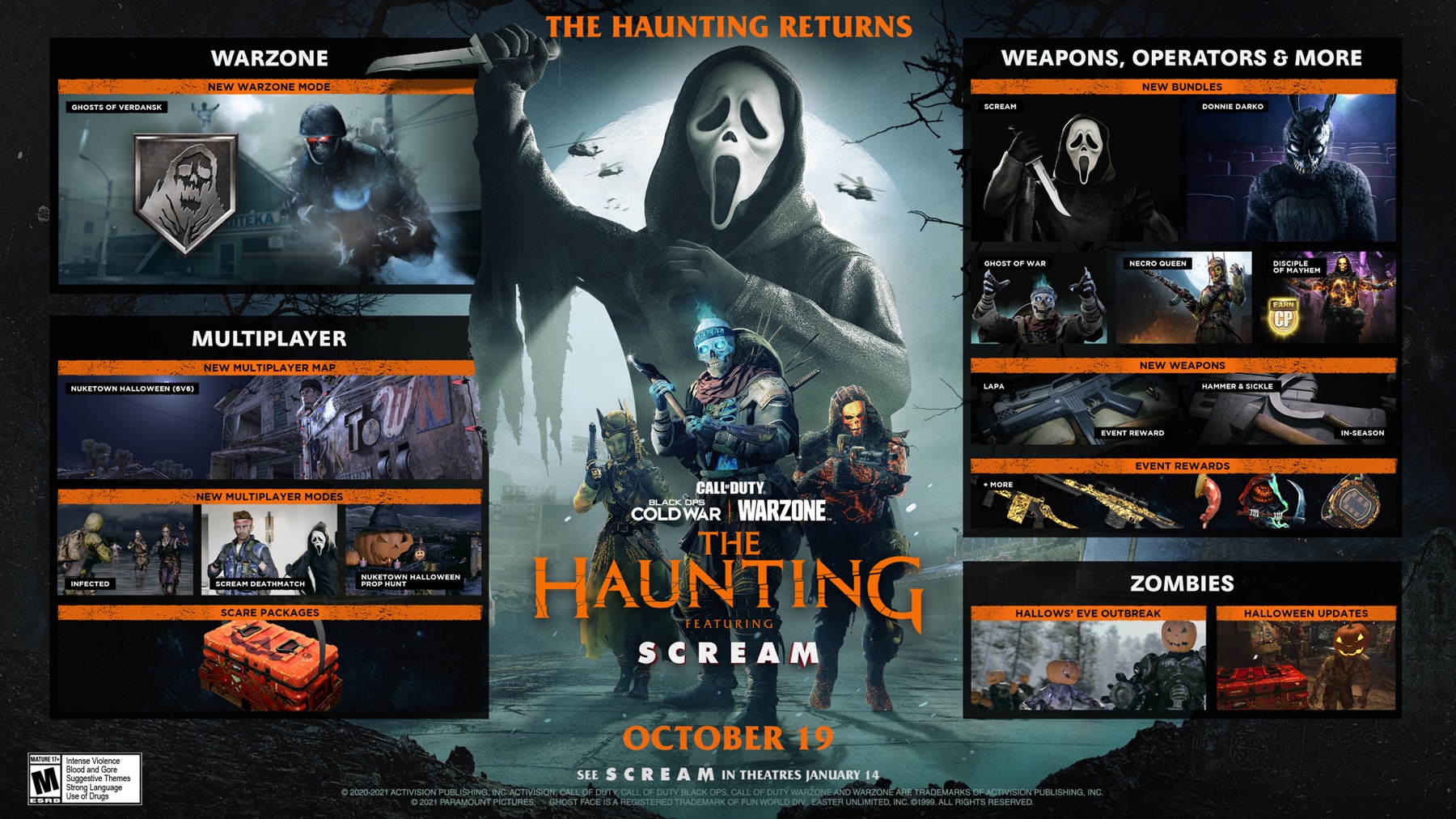 At the center of the event is Scream, one of the most infamous horror movie characters ever created. Scream is arriving as a bundle in The Haunting, along with Donnie Darko and some other lesser bundles.
For Warzone, specifically, the event will only introduce the Ghosts of Verdansk mode — which is a throwback to last year's Haunting of Verdansk mode. Activision stated that it will work similarly to the previous mode and that it's "not for the faint of heart."
A host of new modes and Halloween-themed content is coming to Cold War multiplayer and Zombies. There's Nuketown Halloween and three modes, including Infected, coming to multiplayer. Additionally, two Halloween updates are arriving in Zombies.
Lastly, there are two weapons coming to both Warzone and Cold War. The LAPA SMG and Hammer & Sickle will arrive via in-game challenges, which players need to complete to unlock the weapons. There are also five event rewards, which players can unlock by playing event-specific modes and completing challenges in The Haunting.
The Haunting will go live at 1 p.m. ET on Oct. 19 for Warzone and Cold War.