Riot Games announced Wednesday the opening matches of VALORANT Champions Istanbul. One highlight from the first games includes a Europe, Middle East and Africa vs. North America grudge map between Fnatic and 100 Thieves. Opening bouts like Paper Rex vs. EDward Gaming and LOUD vs. ZETA DIVISION will also be must-watch.
Along with the first matches, the announcement from Riot contains everything to know about the format and schedule of the upcoming event.
Champions Istanbul runs from Aug. 31 to Sept. 18, 2022. Originally, the event was slated to begin Sept. 2, but the change was made to accommodate the format and allow more player breaks, according to the announcement.
Champions Istanbul is the culmination of the VALORANT Champions Tour season. Sixteen teams from across the globe will compete for the chance to be crowned the best team in VALORANT. Every team had to qualify based on circuit points or by winning a Last Chance Qualifier event.
The teams
Group A
Paper Rex (APAC)
EDward Gaming (East Asia)
Leviatán (LATAM)
Team Liquid (EMEA)
Group B
OpTic Gaming (NA)
BOOM Esports (APAC)
ZETA DIVISION (Japan)
LOUD (Brazil)
Group C
FunPlus Phoenix (EMEA)
KRÜ Esports (LATAM)
XSET (NA)
XERXIA (APAC)
Group D
DRX (Korea)
FURIA Esports (Brazil)
Fnatic (EMEA)
100 Thieves (NA)
Champions Istanbul format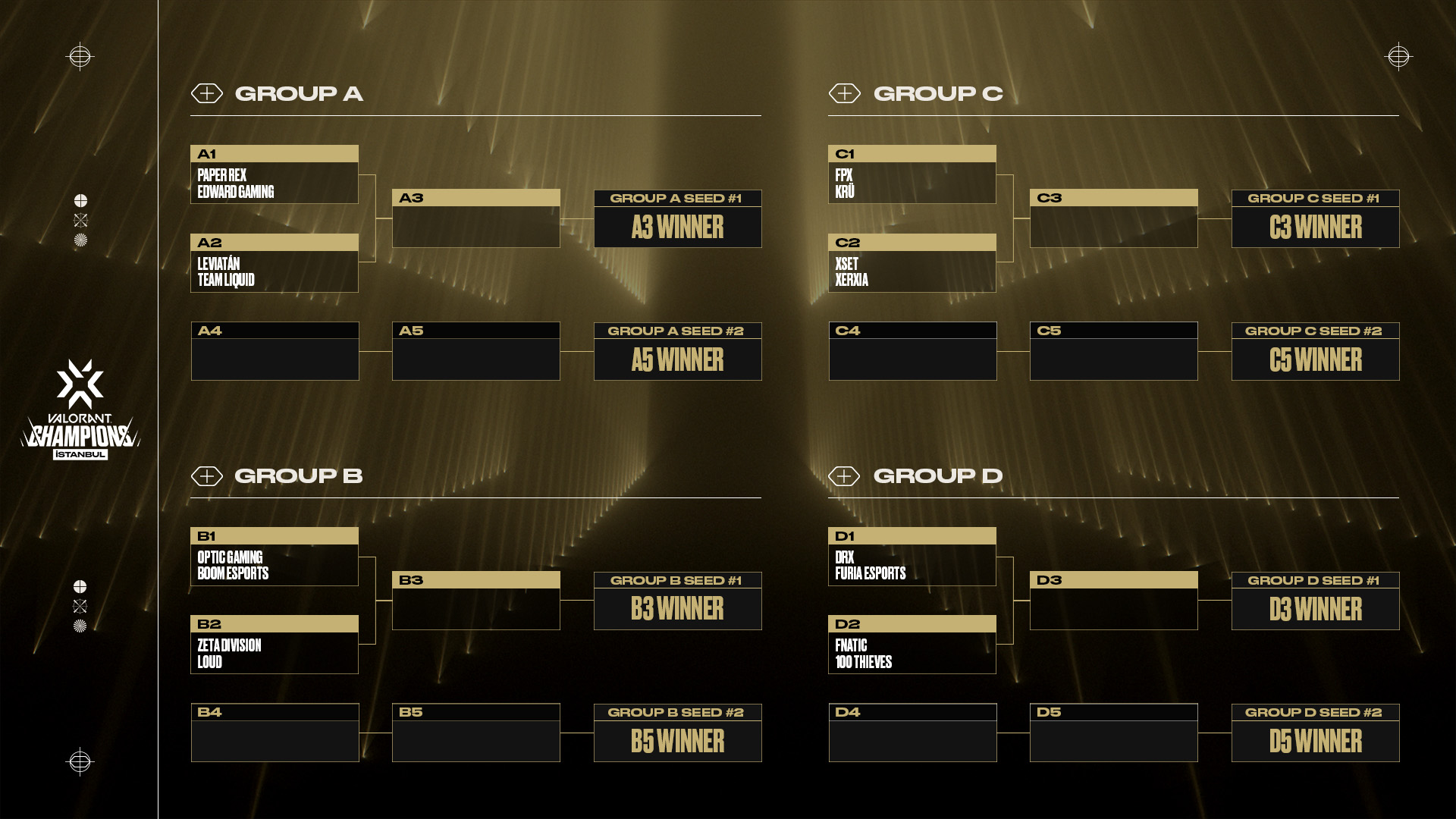 Champions Istanbul begins with a GSL-style group stage with four separate groups. Two winners from each group will advance to a double elimination playoffs bracket. A random draw will be used to seed the eight teams in this stage. The four teams coming out of their group as first seed will start off with a match against a second seed from a different group.
The eight team double elimination bracket will culminate with the grand final.
Groups were sorted by first placing teams into pools based on their overall placement within their respective regions.
Pool 1 – NA 1, EMEA 1, KR, APAC 1
Pool 2 – NA 2, EMEA 2, LATAM, JP
Pool 3 – NA LCQ, EMEA LCQ, BR, APAC 2
Pool 4 – S. America LCQ 1, S. America LCQ 2, APAC LCQ, East Asia LCQ
Teams from each pool were then randomly drawn into one of the four groups. If a team was ever put into a group with another from the same region, then they were moved to the next alphabetical group. If they were the final team from their pool, they were moved backwards through the groups until a valid group was found.
Event schedule
Group Stage
10 a.m. ET on Aug. 31
8 a.m. ET on Sept. 1
8 a.m. ET on Sept. 2
8 a.m. ET on Sept. 3
8 a.m. ET on Sept. 4
10 a.m. ET on Sept. 5
No matches Sept. 6
10 a.m. ET on Sept. 7
10 a.m. ET on Sept. 8
Playoffs
10 a.m. ET on Sept. 9
10 a.m. ET on Sept. 10
10 a.m. ET on Sept. 11
10 a.m. ET on Sept. 12
10 a.m. ET on Sept. 13
Finals
Lower semifinal and upper final – 10 a.m. ET on Sept. 16
Lower final – 10 a.m. ET on Sept. 17
Grand final – 10 a.m. ET on Sept. 18
Where to watch Champions Istanbul
Twitch
YouTube