There are several unique items that you can acquire along your travels in Diablo 4. While these items are some of the best pieces of gear you can equip, they are exceedingly rare and some of them are specific to certain classes. Luckily, there are also unique items that can be used by any class in Diablo 4, and this includes the Penitent Greaves.
The Penitent Greaves are a pair of unique boots that are of Ancestral rarity. They have an item power of 800 and feature four primary affixes: a boost to movement speed, crowd control duration, slow duration reduction, and cold resistance. The Legendary Aspect that is equipped on the greaves has the following effect: "You leave behind a trail of frost that Chills enemies. You deal [7-10]% more damage to Chilled enemies."
Naturally, players who are using Frost skills will be clamoring to acquire the Penitent Greaves. You can read my guide below for details on how to add them to your inventory in Diablo 4.
Getting Penitent Greaves in Diablo 4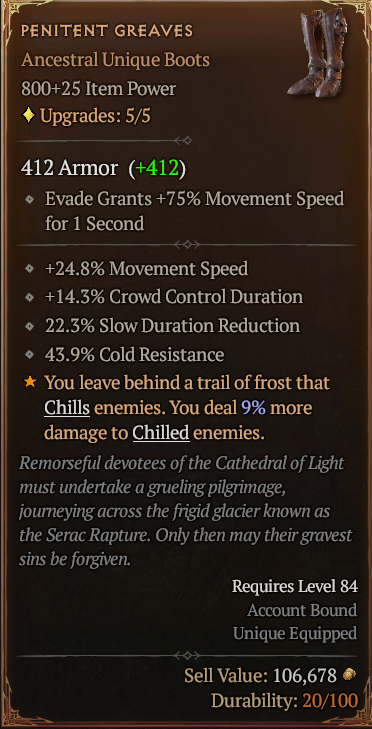 Like with any other unique item in Diablo 4, Penitent Greaves are only available as a random loot drop from an enemy or a chest. This means you could run 100 dungeons or defeat a single enemy out in the world and have similar chances of seeing the Penitent Greaves appear as loot. However, you need to play on World Tier 4 to have a chance of seeing the Penitent Greaves, as they are of Ancestral rarity.
Naturally, my first recommendation for trying to farm the Penitent Greaves will be to complete Helltide events and Nightmare Dungeons. These are the two primary endgame loops in Diablo 4 and offer the best chance of receiving stronger loot. With Helltide events, I recommend saving up your cinders and opening chests that require 150-175 cinders, as this will increase your chances of receiving better items.
You can also complete Tree of Whisper quests by collecting Grim Favors. Just try to select the caches with a specialty in footwear over others.