The Call of Duty: Modern Warfare 2 campaign has been out for just under a week so far, and generally, players have enjoyed their playthroughs. By all accounts, Infinity Ward has delivered another brilliant campaign, complete with an intriguing story of companionship, loyalty, and betrayal in addition to some fantastic cinematics and gameplay. Unfortunately, some players haven't been able to experience the Modern Warfare 2 campaign in all its glory due to some serious crashing issues.
Crashing is nothing new to the Call of Duty fan base. With how finicky and unstable the games in the series can be at times, crashing is inevitable whether players are on console or PC. In the MW2 Campaign, the crashing problems seem to be magnified, with players experiencing a crash every mission in some cases. There's seemingly no direct cause behind why this is happening; it could be due to the fact that the campaign was released into early access and the developers simply need to iron out some issues on the backend. Regardless, players who want to complete the campaign before MW2 fully launches will want to keep their crashing to a minimum.
If you follow our potential fixes below, you just might be able to accomplish that goal.
Fixes for the Modern Warfare 2 campaign crashing
Unfortunately, there are no concrete fixes that will completely stop players from crashing during the campaign. However, we have a couple of workarounds that players can try to attempt to solve their problems.
The first fix is only available for players on PC. If players are on Battle.Net, they can attempt to scan and repair the campaign. This will potentially eliminate any problems within the game's files that were causing crashes. Players can do this by navigating to the game's page on the Battle.Net launcher, clicking the cog next to the "Play" button, and selecting "scan and repair."
Comparatively, players on Steam can verify the game's files. To do this, players can go to their "Games" tab, find the MW2 row, right-click on the game's name, and then select "Properties." From here, press on the "Local Files" option and then select "Verify Integrity of Game Files." This will ensure every file for the game is working correctly.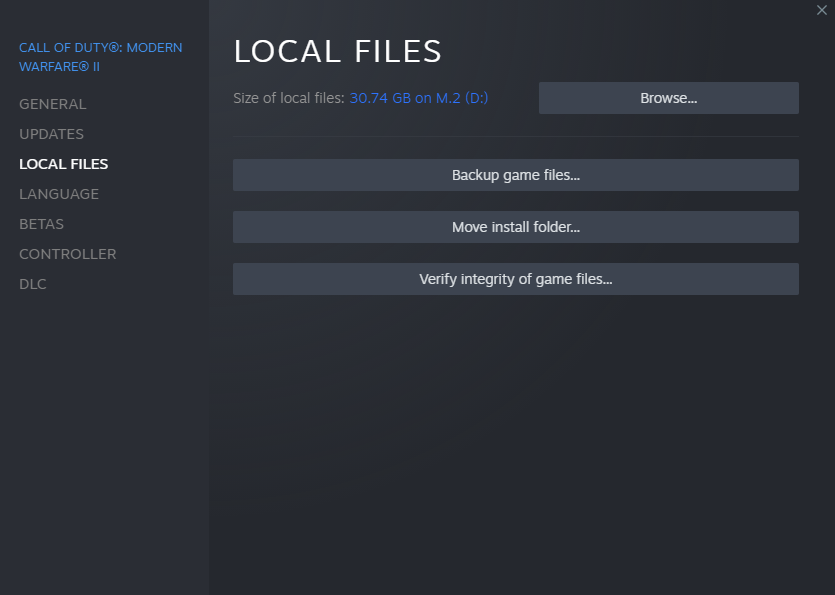 If neither of those fixes works for PC players, they can attempt to lower their graphics settings in MW2. This could involve lowering the settings to "Medium" or "Low" or even dropping your resolution. While your game might look worse, you could stop the crashes with that simple fix.
Any console players really just have one potential fix available to them, which is to uninstall and then reinstall the MW2 campaign. This isn't ideal, but there's not much else available to either PlayStation or Xbox players.
Hopefully, one of those fixes allowed players to enjoy the Modern Warfare 2 campaign without a crashing interruption.