One of the main quests in Elden Ring involves Hyetta and her desire for certain kinds of grapes. For the most part, Hyetta requests Shabriri Grapes, as they make her see better. Her overall goal is to become a Finger Maiden, and she needs the grapes to get closer to that goal. However, after handing her these specific grapes, she suddenly wants something else: a Fingerprint Grape. This kind of grape is only found at one location in Elden Ring, the Church of Inhibition.
This church is just like any other one in the Lands Between. It holds a Sacred Tear at the foot of the Marika Statue as well as a challenging NPC to fight. However, it's also the only spot you can find the Fingerprint Grape Hyetta wants. This is one of the last steps in her quest, so players anxiously want to find the grape and follow Hyetta to the end.
Below, you can see exactly how to get to the Church of Inhibition.
The Church of Inhibition's location in Elden Ring
The Church of Inhibition is located at the far northeastern part of Liurnia. It's actually only accessible from the north, near the Grand Lift of Dectus. If you fast travel to the grand lift or come from the west side of the region, you can reach the location much easier.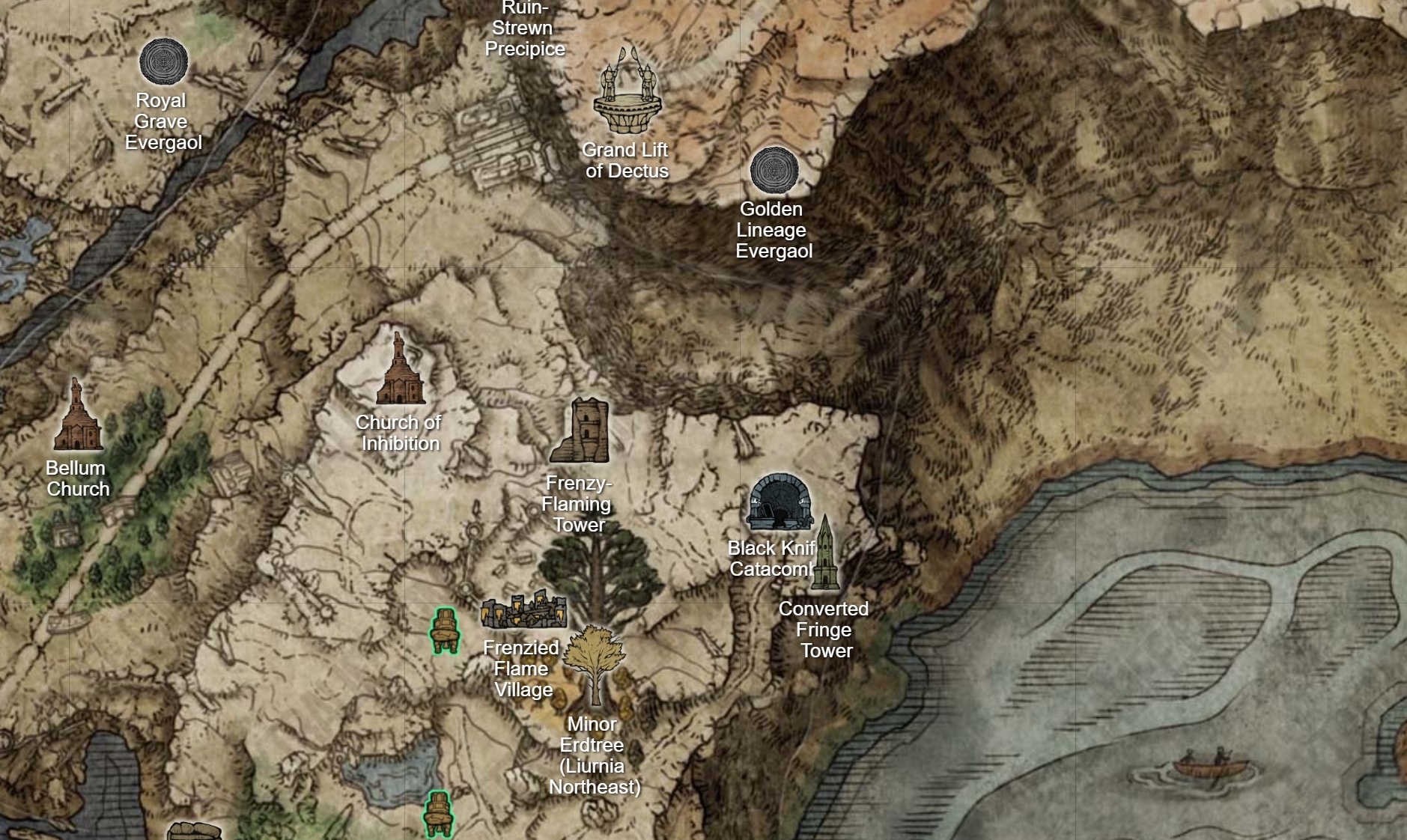 However, the church requires you to go through the Frenzied Flame Village as well as the Frenzy-Flaming Tower before reaching it. These locations can be quite frustrating, as they can launch flaming beacons that fill up your Madness meter. You need to find rocks and other objects to hide behind when these beacons are going off while also avoiding the giant rats that litter the area.
Slowly make your way south of the Frenzy-Flaming Tower to reach the outskirts of the Frenzied Flame Village. However, before entering the village, you can find a windstream that takes you up the cliff and to the south of the Church of Inhibition. This windstream is found to the right of the tower, so don't go up the hill that takes you to the village.
Once you take the stream up, you can go north to the Church of Inhibition and find a new enemy, Festering Finger Vyke. You can ignore him at first or choose to fight him. If you decide to fight, you will be rewarded with Vyke's War Spear as well as the Fingerprint Grape. It might be wise to ignore him at first and hit the Site of Grace inside the church so you can respawn there if you die.
Inside the church, there will also be the Finger Maiden armor set as well as a Sacred Tear. For more helpful content, check out Upcomer's comprehensive Elden Ring guide hub.