After completing the tutorial for Zelda: Tears of the Kingdom on Great Sky Island, you will be plopped into the world of Hyrule to fully start your adventure. Like in Breath of the Wild, you can explore the entire map as quickly as you want. You can choose to ignore the main story and just take what the map has to give you if that's what you choose.
However, some players might be interested in locating specific landmarks over trying to blindly find them. For many players, Kakariko Village will likely be one of the first settlements they want to visit in Zelda: Tears of the Kingdom.
Of course, when you first start out, you are given a map that is totally blacked out. The only way to discover where villages and other landmarks are is to explore the map and uncover their locations yourself. Or, you can simply follow our guide below to specifically find Kakariko Village.
Finding Kakariko Village in Zelda: Tears of the Kingdom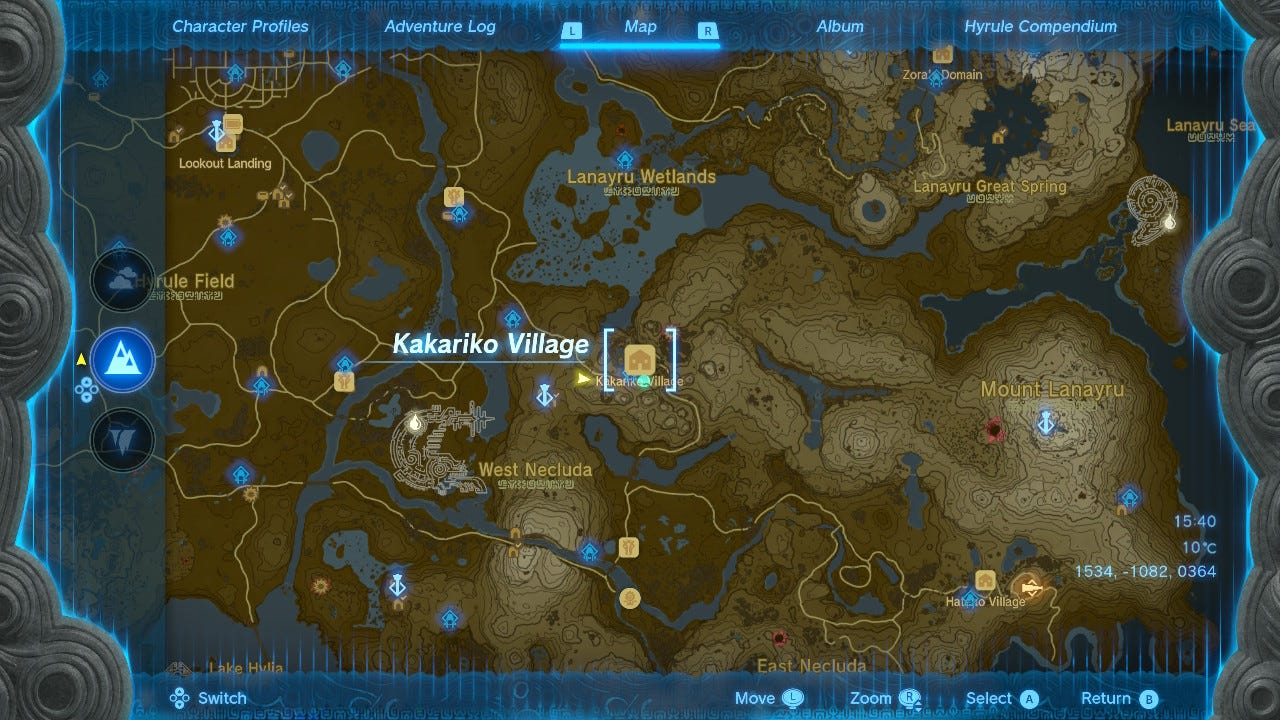 You will eventually have to make your way to Kakariko Village to continue the main story quests. However, if you want to make it there beforehand, you will find it southeast of Lookout Landing and north of West Necluda. For reference, Kakariko Village is also found northwest of Hateno Village, which is another hot-spot destination in Hyrule. It's there you can dye Link's armor and paraglider if you so choose.
Back to Kakariko Village, though, you can find the town at the coordinates of 1812, -0988, 0112. You can mark this spot on your map as an easy reference point when you are making the trek there.
Read more: How to find all villages in Zelda: Tears of the Kingdom
Kakariko Village has not changed much since the events of Breath of the Wild. It is filled with new characters to talk to, side quests to accept, and is a central hub spot for the southeastern portion of the map. Of course, you might most associate Kakariko Village with the main story of Tears of the Kingdom once you get a little farther in the game. Either way, now you know exactly where to find the village in Hyrule. You can also find other villages, such as Rito Village, by reading our previous guides.