The M1928, otherwise known as the "Tommy Gun," is a mid-tier submachine gun by itself in Call of Duty: Vanguard. Its stats don't match up with the other top options in the class, like the MP40 and PPSh-41. However, with the correct loadout in Vanguard, the M1928 can have virtually no recoil while still keeping its damage range profile and excellent mobility.
When players use the base M1928, they'll find it has a solid amount of recoil. It's hard to control at range and can't really down enemies from beyond mid-range. The Tommy Gun has decent damage range for an SMG but this doesn't truly become useful unless players throw on specific attachments to reduce its recoil. The exact class that players need to equip to do this is viewable below.
M1928 no-recoil loadout in Vanguard
If players can manage to control the recoil of the M1928, they have one of the best SMGs on their hands. The M1928 comes with some terrific attachments that make it a viable loadout option on any map in Vanguard multiplayer. While it still might not be as dominant as the MP40, it can certainly compete with this specific no-recoil loadout that's seen below.
Muzzle: F8 Stabilizer
Barrel: CGC 12″ Cooling
Optic: Slate Reflector
Stock: Chariot Marksman
Underbarrel: Carver Foregrip
Magazine: 9MM 50 Round Drums
Ammo Type: Lengthened
Rear Grip: Fabric Grip
Proficiency: Sleight of Hand
Kit: Quick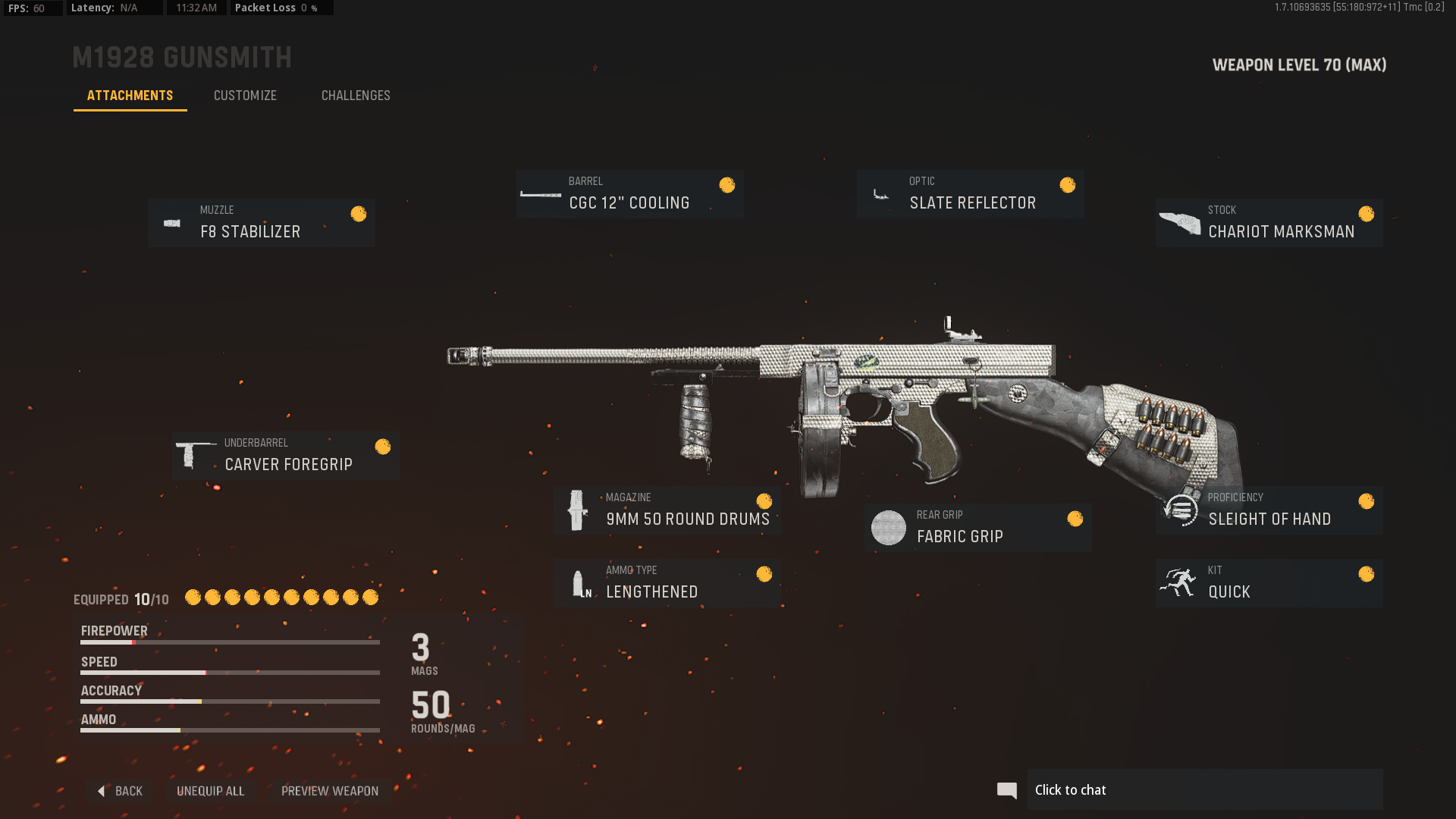 The biggest question mark about this loadout is the magazine. The 9MM 50 Round Drums reduce the M1928's damage, bullet velocity and range in exchange for extra recoil control, fire rate, mobility and accuracy. While this might seem like a huge detriment to the gun, the positives far outweigh the negatives. Also, players make up the lost damage range with the F8 Stabilizer.
The last attachments to truly boost the M1928's recoil is the CGC 12″ Cooling barrel, Carver Foregrip and Chariot Marksman. In total, the M1928 gains +12 recoil control points with this loadout while not sacrificing much else. Its mobility is still strong thanks to the Fabric Grip and its bullet velocity is still a plus with the Lengthened Ammo Type in use.
This M1928 loadout in Vanguard is as accurate as any other weapon and should help players trying to use it in multiplayer.