It's finally time for the first slate of new content in Call of Duty: Modern Warfare 2 and the arrival of Warzone 2 with the Season 1 update. Activision let loose all of the details surrounding the season, giving players a solid idea of what to expect at launch and in-season. We have new multiplayer content for Modern Warfare 2, an entirely reworked Prestige system, a fresh take on the Battle Pass, and the entirety of Warzone 2 with some much-needed changes. There's also DMZ, which we will receive more information on later today and next week.
Below, fans can take a look at all Season 1 has to offer in both Modern Warfare 2 and Warzone 2. If you want to read about everything in-depth, you can take a look at Activision's newest blog post.
Modern Warfare 2 Season 1
We'll start off with what to expect on the multiplayer side of things. There's quite a bit of content coming for MW2 fans, and you can see all of it broken down below.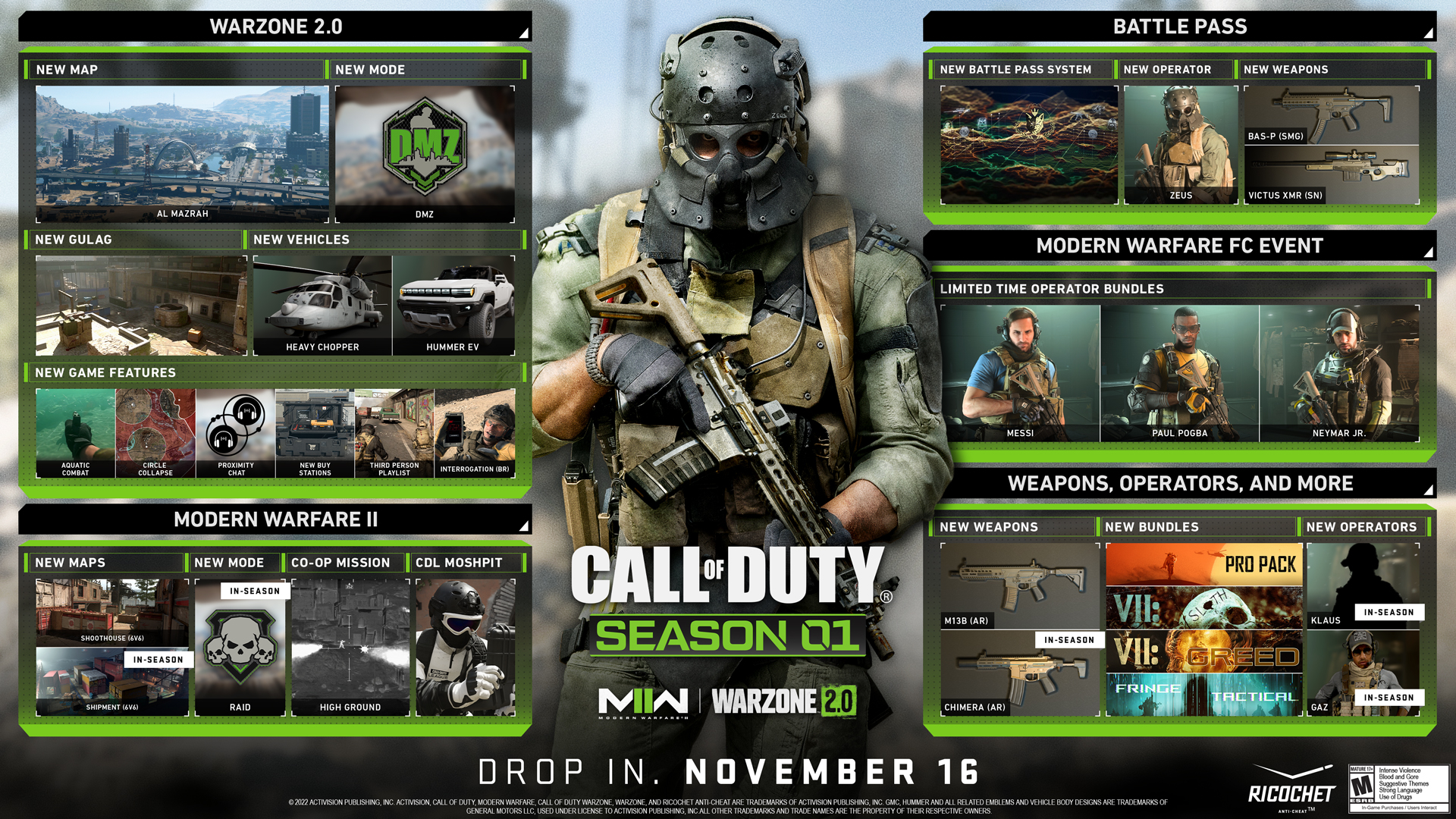 New Maps 
Shoothouse
Shipment (in-season)
New Weapons 
BAS-P (Battle Pass)
Victus XMR (Battle Pass)
M13B
Chimera (in-season)
Operators 
Messi
Paul Pogba
Neymar Jr.
Klaus (in-season)
Gaz (in-season)
Zeus (Battle Pass)
Extra 
New Mode: Raid (in-season)
Co-Op Mission: High Ground
CDL Moshpit Playlist
New Battle Pass system
Warzone 2 Season 1
Next, we have all of the content that fans will see in Warzone 2 at launch. There are some big changes that Activision has made from COD Next, so players will see a new game from that event.
New Vehicles 
New Features 
Aquatic Combat
Circle Collapse
Proximity Voice Chat
New Buy Stations
Three ways to earn a Loadout
Third Person Playlist (in-season)
Interrogation
New Gulag
Backpack system for loot
A.I. Combatants at Strongholds, Black Sites, Gulag Overtime (no longer spread around the map)
Fuel for vehicles
Warzone 1.0 will be renamed to Warzone Caldera, only feature the Caldera map
That's all of the basic information we have regarding Season 1 of Call of Duty: Modern Warfare 2 and Warzone 2. We'll have more in-depth guides for the season's different content going up throughout this week.