With just under 48 hours until the content embargo for Call of Duty: Vanguard lifts, players are beginning to get excited. Last week's content dump got players hyped and now they're waiting with anticipation for the release of the newest Call of Duty title. However, in order to be properly prepared, players need to know exactly what time Vanguard releases for them.
Call of Duty releases by region. Essentially, the game will unlock at midnight local time. However, there are some exceptions to this rule, which can make pinpointing a release time difficult for Vanguard players. Below, all of the misconceptions are dispelled.
Each region's time release for Vanguard
Activision is choosing to separate the release time for consoles and PC this year. There are two exceptions that play a part in determining what time the game will release in a region.
If players are planning on playing Vanguard on a PlayStation 4+5 or Xbox One/X|S, their copy of Vanguard will unlock at midnight local time, with the one exception being for certain parts of North America. It unlocks at 9 p.m. PST for NA regions outside of EST. Of course, players either need to have a physical copy early or have pre-ordered digitally to have access to the game as soon it unlocks. If players pre-ordered digitally on either console, they can begin pre-downloading Vanguard so it will be ready as soon as the game releases.
The story is a bit different for PC players. Essentially, the game will release on PC at 12 a.m. ET globally. This doesn't change much for North American players, as the game will release at the same time regardless of platform. However, other regions of the world will have to wait varying times beyond midnight local time.
São Paulo: 1:00 BRT
London: 4:00 GMT
Stockholm: 5:00 CET
Berlin: 5:00 CET
Moscow: 7:00 MSK
Hong Kong: 12:00 HKT
Seoul: 13:00 KST
Tokyo: 13:00 JST
Sydney: 15:00 AEDT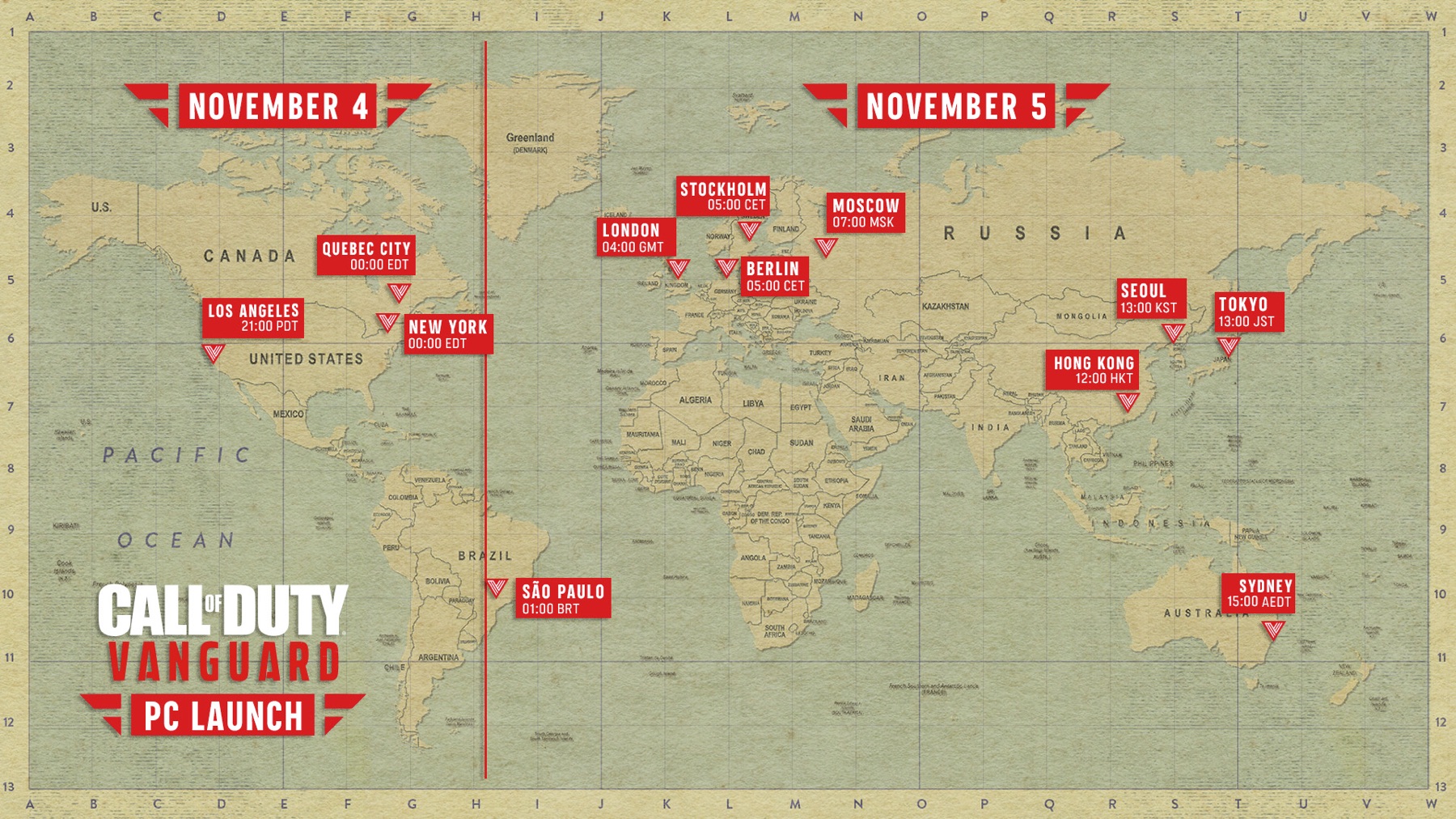 The content embargo for Vanguard lifts at 9 a.m. EST on Nov. 4, which is Nov. 5 midnight local time in New Zealand. This is when players can begin posting and streaming Vanguard.