Over the weekend, a new Mastercraft weapon blueprint bundle was released in Call of Duty: Vanguard multiplayer. The bundle is called "Graveyard Shift" and contains a Mastercraft blueprint for the MP40 called "Rune." The blueprint is unique in every aspect, featuring dark undertones with wings on the side of it. It's undoubtedly gotten the attention of hundreds of Vanguard players, resulting in them purchasing the bundle, which is worth 2,400 COD Points.
However, when these players went to equip and use the Rune blueprint in multiplayer, they instead loaded in with the default STG44. The bug is seemingly affecting every player who has purchased the bundle and is attempting to use it in Vanguard multiplayer. For some reason, though, players can use the blueprint in Zombies.
This is the second time that a Mastercraft blueprint for the MP40 has gone wrong. In late 2021, the Bioluminescence blueprint went live but didn't match its in-game model whatsoever. Now, the Rune blueprint has players wishing they could refund their purchase.
Rune Mastercraft blueprint is broken in Vanguard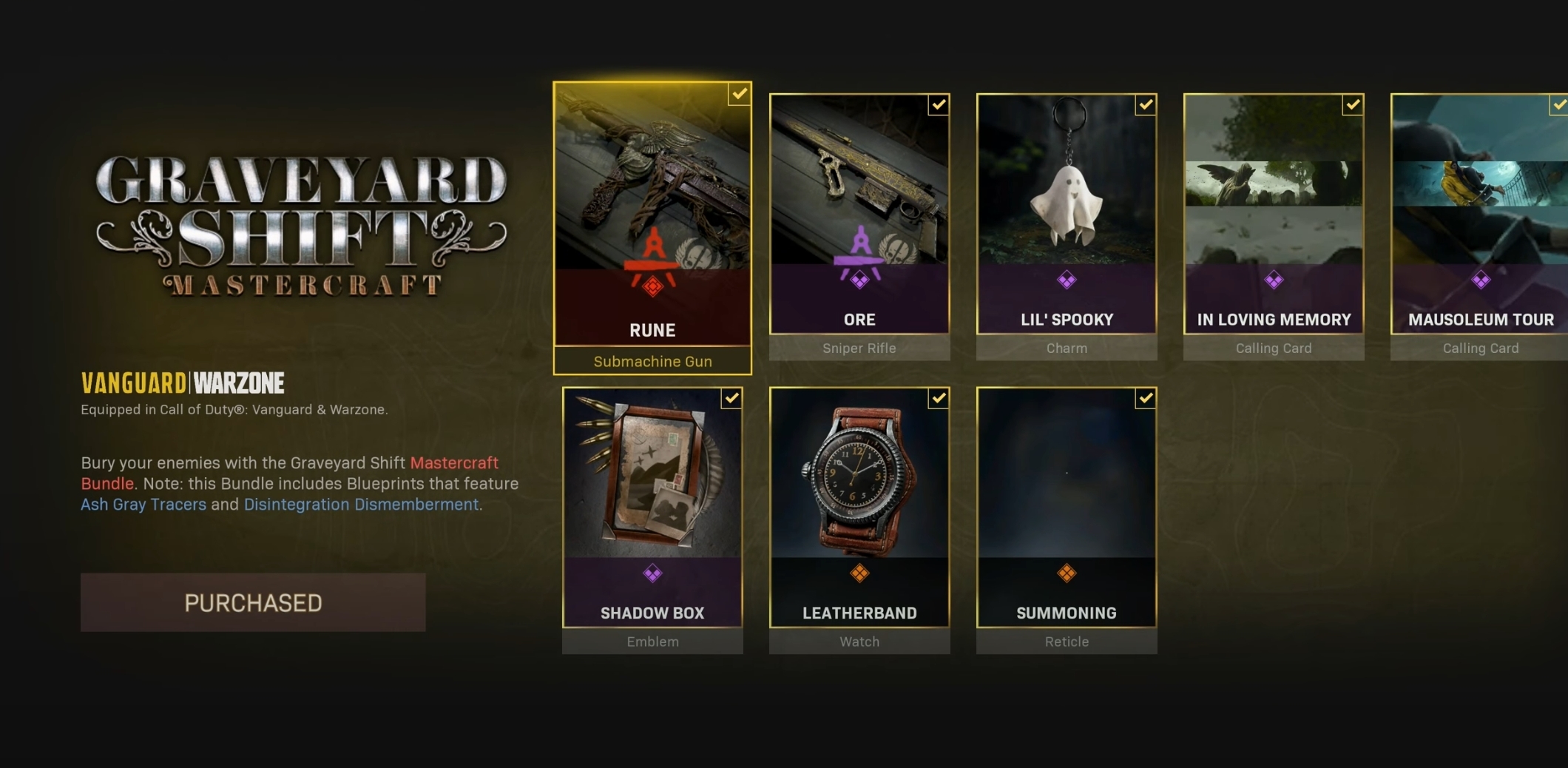 The bundle itself features eight total items but the highlight is easily the Rune blueprint for the MP40. It looks unlike any other weapon in Vanguard, comes with Ash Gray tracer rounds and features a unique kill animation. Players have yet to experience any of this in multiplayer, though.
If a player attempts to select the class with the blueprint on it, they'll be given an STG44 instead. There's no rhyme or reason as to why this is happening but Vanguard players want the issue resolved quickly. Players paid $24 for this bundle and to have the biggest selling point not work is obviously a problem.
At the time of writing, Sledgehammer Games has not commented on the issue nor offered a timeframe for a patch to fix it. Whenever they do, the bug's progress will be tracked on the Vanguard Trello board.