With the Call of Duty: Vanguard season coming to a close in the Call of Duty League, it's time for Modern Warfare II to take center stage. During the broadcast of Call of Duty League Champs, Activision revealed the official open beta dates for Modern Warfare II. As the COD series has done every year since 2015, the beta will be live for a couple of weeks so players can get an early taste of multiplayer. The beta won't feature every piece of content that will be available at launch on Oct. 28, but it will allow players to test out various aspects of the game.
The Modern Warfare II beta will be similar to every other beta before it. PlayStation players will get access first due to Sony's exclusivity deal with Activision. This year, PlayStation players get the whole first weekend to themselves. The first weekend of the beta begins on Sept. 16, which is only open to PlayStation players that have preordered any edition of MWII. Starting on Sept. 18, any PlayStation player will be able to download the beta. PlayStation's first weekend ends on Sept. 20.
Then, the next weekend begins on Sept. 22 and is open to any player that has preordered MWII. On Sept. 24-26, the beta becomes available for any player on PlayStation, PC, and Xbox regardless of pre-order status.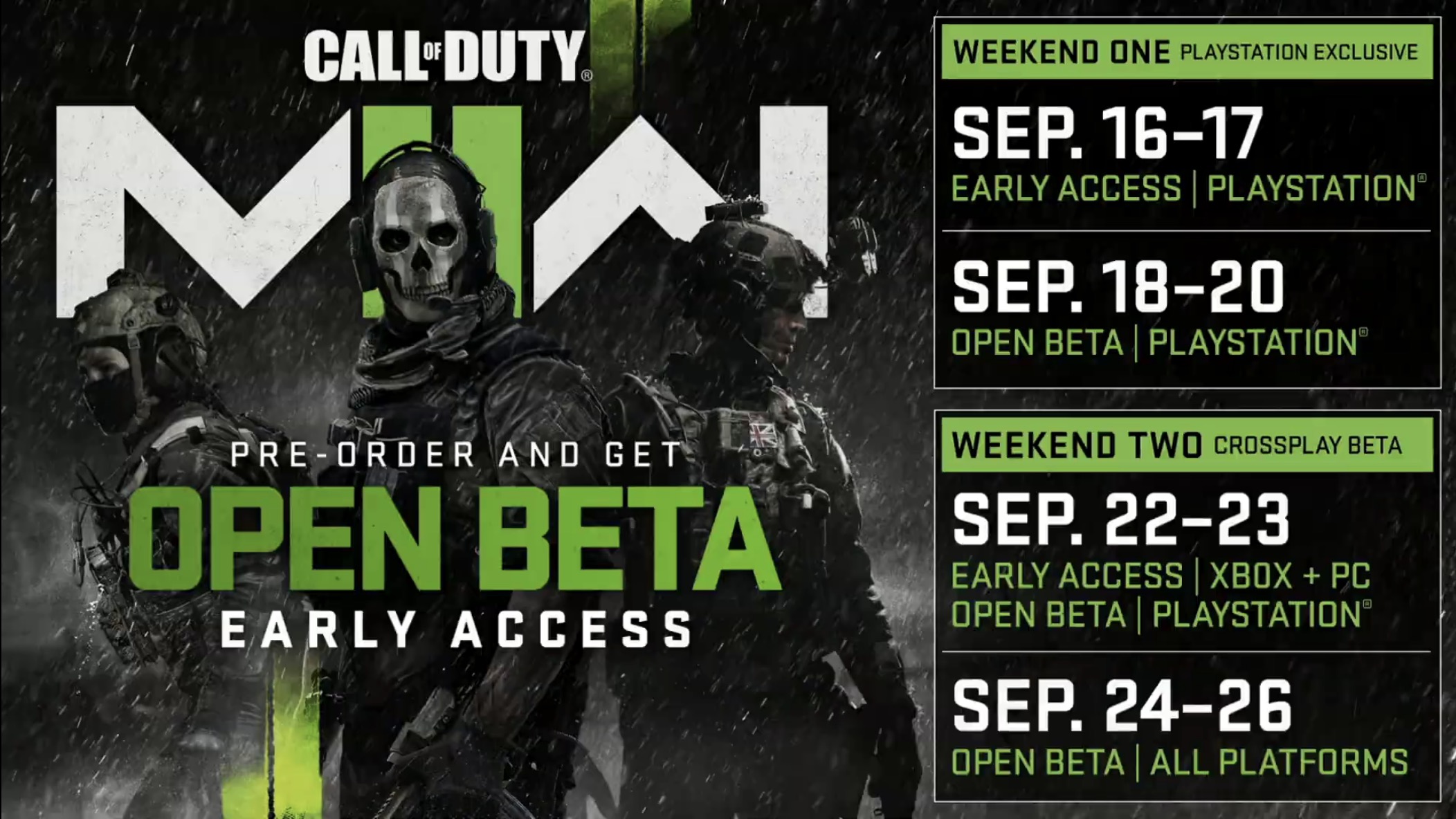 Before the beta begins, however, Infinity Ward will host the Call of Duty Next event on Sept. 15. This event will see the reveal of Modern Warfare II multiplayer, Warzone Mobile, comments on the future of Warzone, and live gameplay from content creators.
New map coming to the Modern Warfare II open beta
The last bit of news we received from Infinity Ward was a reveal of one of the maps that will be included in the Modern Warfare II open beta. The map is called Marina Bay Grand Prix, and takes place at night in and around an F1 racetrack. Infinity Ward stated they've received positive comments from CDL players about the map, so it could be a competitive map come launch.
We understand that, with our agreement, @infinityward have announced they designed a Grand Prix map as a part of the #MWII Beta. This is right, and the map will be playable for the 2022 Beta. We will be playing on Grand Prix in #MWII this year. pic.twitter.com/8kbaSEkChU

— Call of Duty @ #CDLChamps (@CallofDuty) August 7, 2022
Infinity Ward also said they'll be dropping more multiplayer tidbits from now until Sept. 15, so fans can stay tuned for all of that information.