The new Teamfight Tactics mid-set expansion is already out.
TFT Dragonlands: Uncharted Realms brings in a ton of new ways to play the game and with it, a lot of new champions and traits. One of the biggest editions is Lagoon. The Lagoon trait is the gift that keeps on giving, allowing players to see their progress in real-time with the unique Lagoon mechanic.
Take the dirty bubble challenge yourself and see how many spells you can cast. As for what players can earn by taking this challenge, here is a look at the official Lagoon loot table.
How does Lagoon work in TFT?
With tomorrow being the big release of Uncharted Realms, it's time for the info dump. For all the players who like to know everything!

First, here's the patch rundown. If you've played a ton of PBE it's a retread, but if not, this video should help.https://t.co/SAQO7dP2xm

— Riot Mort (@Mortdog) September 7, 2022
The Lagoon trait is one of the new traits in TFT 7.5. The power of the trait is simple. Lagoon champions gain bonus attack speed and ability power based on the trait threshold that is currently active. But the real appeal to the trait is the seashell that sits right outside the player's board. This seashell keeps track of the total lagoon spells cast throughout the game and will occasionally spit out rewards to the player for their hard lagoon work.
The Lagoon Loot table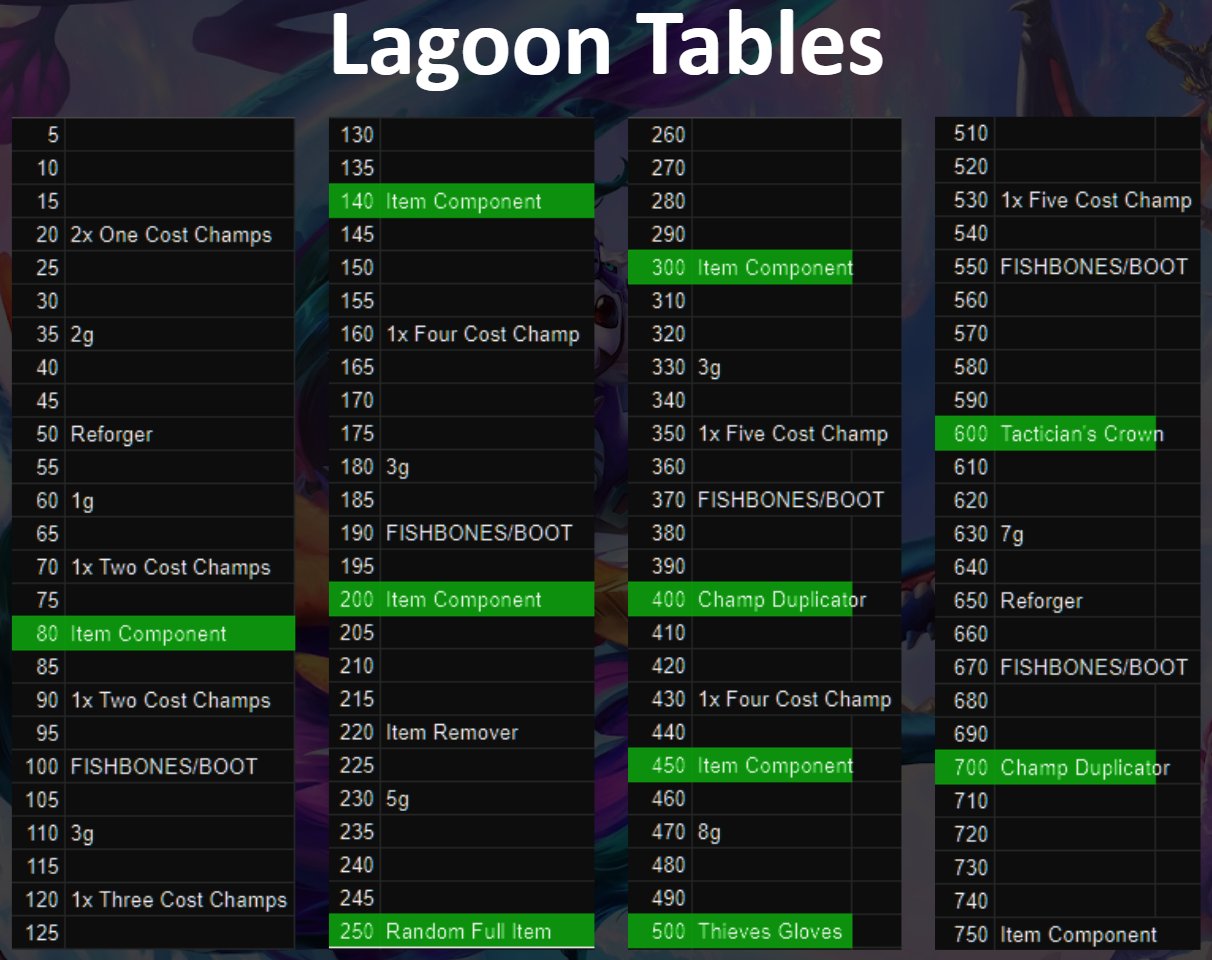 This chart is subject to change with buffs and nerfs. But with the initial patch of the TFT 7.5 expansion, this is what players can expect when queuing onto the convergence.
The first piece of loot players will get is at 20 ability casts and the payoff is just two one-cost champions which is just essentially two gold. 15 more casts will net a player two more gold. However, sticking with the trait will reap serious rewards. Make it to 80 casts and get an item component and from there the rewards ramp up. If players end up casting 600 spells — which will most likely require the player to last till Stage 6 and have been playing Lagoon the entire game — they will receive the following.
51 gold
7 item components and a Thieves Gloves
A Tactictians Crown
And one of each consumable including a Champion Duplicator
However, because of the rewards being loaded towards the back, it's currently not very good to splash in especially later in the game if players are expecting a simple econ trait.in the current form Lagoon — at least from a loot perspective.